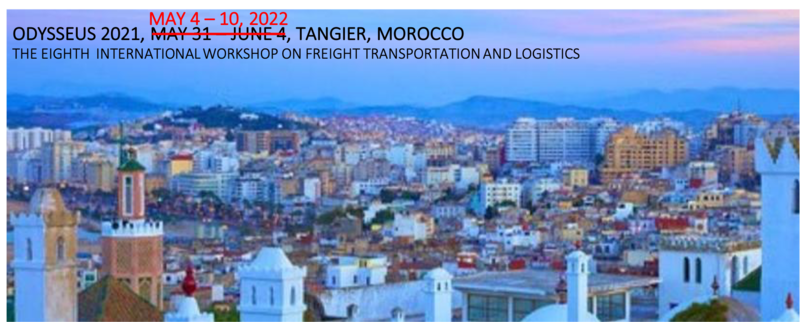 Odysseus 2021
Montréal, 4 — 9 May 2022
IMPORTANT INFORMATION
The health situation in many countries required us to postpone the conference. We are happy to announce the new dates for ODYSSEUS: May 4 - 9, 2022. The conference will be held at the Mövenpick Hotel & Casino Malabata Tanger.
ODYSSEUS workshops remain one of the leading scientific meetings that contribute greatly to the development of the Logistics and Freight Transportation field. ODYSSEUS 2021 will be the 8th edition in the series of ODYSSEUS meetings after Crete 2000, Sicily 2003, Altea 2006, Çeşme 2009, Mykonos 2012, Ajaccio 2015 and Cagliari 2018.
This international, triennial workshop, brings together researchers and practitioners of freight transportation and logistics to discuss recent experiences, exchange ideas, disseminate research results, and present advanced applications and technologies. It is a high quality forum that exhibit the recent developments in the freight transportation and logistics field, as well as its trends and advances in the theory, practice and application of mathematical models, methodologies and decision support systems.
ODYSSEUS will be held for the first time in the African continent, in the beautiful city of Tangier Morocco. The city is on the Strait of Gibraltar, which separates Africa from Europe, at about 15 km from the Spanish coast and 20 km from the biggest port in Africa, Tanger Med. Located in the intersection between the Mediterranean Sea and the Atlantic Ocean, Tangier is one of the oldest cities in North Africa that throughout history was regarded as an important strategic place, crucial to the trade between the two continents, Europe and Africa. Labelled the bride of the north, Tangier is one of the most beautiful cities in Morocco that encompasses a wide historical and cultural heritage. The fusion of contrasted ethnicities and traditions have given Tangier a unique and diversified finesse.
ORGANIZERS